Our News
Beringea U.S. managing director Michael Gross appointed chairman of MVCA board of directors
January 15th 2020
Michigan Venture Capital Association (MVCA) has appointed Michael Gross, managing director at Beringea U.S., as chairman of the organization's board of directors. Gross will assume the position previously held by Tom Shehab of Arboretum Ventures whose term expired in 2019.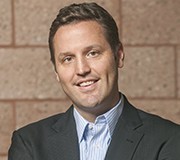 In his role at Beringea, Gross is responsible for investment sourcing, deal execution and portfolio management, with a focus on healthcare, technology enabled services, and sustainability. He also serves as a board director for several of Beringea's portfolio companies. He has previously served as an MVCA board member and member of the MVCA advocacy committee.
"Michigan Venture Capital Association has had an important role in growing the state's entrepreneurial ecosystem for almost two decades thanks to the strong leadership and vision of my predecessors. In 2020, we'll build on the momentum our organization has created in order to continue Michigan's emergence as a thriving venture capital center of excellence. I'm looking forward to working closely with my colleagues on the board, as well as with MVCA staff and our partners at entrepreneurial and economic development organizations, to ensure the robust capital continuum our community provides to Michigan's high-growth, high potential companies stays strong," said Gross.
"Michael has great passion for advancing Michigan's investment and entrepreneurial ecosystem and I am excited about his leadership," says Ara Topouzian, MVCA Executive Director. "I am anticipating a great year for the Michigan ecosystem and our organization is looking at some new opportunities that will greatly benefit from Michael's guidance with our board of directors."
2020 MVCA Board of Directors:
Michael Gross, Chairman, Beringea
Jeff Rinvelt, Vice Chairman, Renaissance Venture Capital Fund
Doug Neal, Treasurer, eLab Ventures
Tom Shehab, Immediate Past Chairman, Arboretum Ventures
Jim Adox, Venture Investors
Adrian Fortino, Mercury Fund
Patti Glaza, Invest Detroit
Fred Molnar, Michigan Economic Development Corporation
Kim Pasquino, Wakestream Ventures
Jon Lauckner, GM Ventures
Evan Ufer, Plymouth Growth Partners